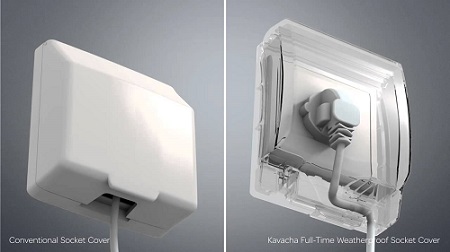 Many electrical sockets in your home are near sources of water. People often have wet hands around your home, and around these potentially dangerous outlets. Moisture also easily accumulates in laundry rooms, kitchens and bathrooms where electrical sockets exist.
Conventional socket covers can keep sockets dry when they are tightly closed but when sockets have a plug present socket covers must be opened, thus creating a scenario where the protection is missing when you need it most.
All your home electrical sockets need full-time protection. That's why the Kavacha Full-Time Weatherproof Socket Cover should be installed on every electrical socket in your home.
Full-time protection means sockets work even when the covers are tightly closed.
IP55 Certified:
Semi-protected against dust.
Protect against jets of water from all directions.